RPA "Digital regulators" will participate in the 57th International Engineering Fair in Brno, Czech Republic, 14-18 of September 2015.
The International Engineering Fair (MSV) is the leading industrial trade fair in Central Europe with annual participation reaching more than 1500 exhibitors and 75000 visitors from 59 countries worldwide.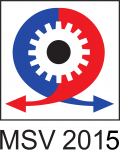 Exhibitor product profile based on Mining technologies, metallurgic technologies, foundry technologies, ceramic technologies, glass technologies, components for machinery, drives, hydraulics and pneumatics, cooling technology, air-conditioning, plastics, rubber and chemistry, forming and surface finishing, power engineering and heavy current electrical engineering, electronic and automation, environmental technology
It is not the first time our company participating in this event. We have already visited Brno in the year 2012 as part of Russian exposition on MSV-2012. This year a stand of RPA "Digital Regulators" also will be a part of Russian exposition. Our technical specialists will represent Company`s products and services.
International Technical Fair will be held from 14 September to 18 September at the address:
Výstaviště 405/1, 603 00, Brno, CZ, Brno Exhibition Centre
You are welcome to our stand no. 43, hall Z, Brno Exhibition Centre.